eMonit, Employee Monitoring Software
Designed for Mid-Sized Companies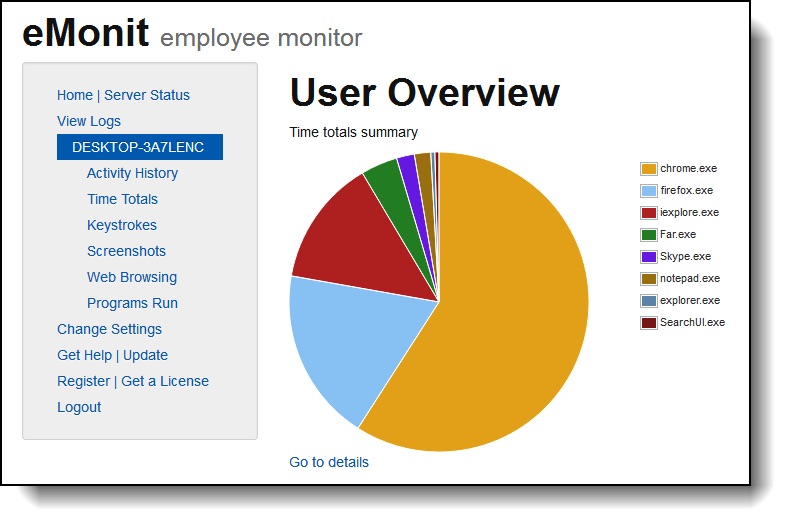 Supervise your employees' work in detail.
Spot wasted time and risky online behaviors.
Enforce your company's IT rules.
Boost productivity.
Why Use Staff Monitoring Software?
Responsible companies set performance standards for employees and have rules aimed at preventing abuse of computer time and stopping risky computer behaviors. But rules go hand in hand with ways of enforcing rules. That's why employee monitoring software—your most valuable enforcement tool—is so important.
By monitoring your employees' computer activity, you give them an incentive for good behavior—and higher productivity.
Monitoring also makes closer supervision and mentoring of employee's work possible.
Monitoring provides the documentation needed for counseling or disciplinary action in cases when employees fail to meet performance standards or break security rules.
Learn more about employee monitoring at Why Monitor Employees.

Why Monitor Employee PCs with eMonit?

eMonit is a simple, effective and affordable solution for small and mid-sized companies that want to monitor their staffs. eMonit tracks the most critical employee behaviors, from web browsing history, to time spent using applications, to text typed in any application or web page, to images taken of employees' computer monitor screens.
eMonit presents the information it gathers in convenient pie chart summaries and chronological records you can filter and search for the information you need.
And eMonit installs in minutes.
Track Employee Activity
Activity monitoring tells you how exactly how each employee spends his or her working hours and lets you easily drill down or filter for specific information. eMonit tracks employee computer activity in multiple ways, providing both convenient graphic overviews as well as more detailed histories.
Monitor employee activity in pie-chart summaries of time spent in each application.
Review chronological reports showing exactly when employees shifted attention from application to application.
Review total time spent in each application.

Monitor Web Browsing

Are your employees accessing the internet primarily for work-related purposes or for personal or frivolous reasons? When and how often do they surf the web or play online games? eMonit's web browsing monitoring provides the answers.
Review employee web-browsing history in pie-chart summaries of the number of pages viewed at each website visited.
Review chronological histories of web browsing showing page titles, date and time visited, and URLs.
Monitor Screenshots
eMonit captures screenshots from employee monitors at intervals of your choosing.
Screenshots give you a window into work content that keystroke logs don't always capture.
Screenshots are especially valuable in assessing web-browsing activity.

Monitor Keystrokes

eMonit records employee keystrokes typed in any application or web page, including emails, web mail, instant messaging and chat.
Search keystroke records for critical words or filter by application or date range.
Review employees' business communications with customers and coworkers.
Quickly spot inappropriate use of email, messaging or chat.
Monitor Programs
eMonit lets you assess employee work activities by providing a detailed list of all programs run on each employee's computer and the number of times each was started.

The eMonit System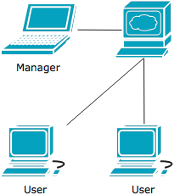 Experienced computer users can install eMonit in minutes on the computers in their local networks without the aid of an IT professional.
Monitored computers send encrypted logs to the manager's computer in near real time. Everything stays within your local network.
Watch our installation overview video.
If you wish, you can test all eMonit's features on a single PC.
System Requirements
eMonit installs in minutes on computers running Windows XP through Windows 10 connected to the same local network.

eMonit Pricing
eMonit pricing is as low as $24.95 per year per PC for 10 or more PCs.
Buy now.
eMonit also offers a 10-day, full-featured trial for two PCs.
Download.
Learn More about eMonit Employee Monitor