LightLogger Keylogger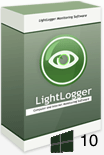 Monitor your child's activity on the computer and internet with LightLogger!
LightLogger Keylogger—a really easy-to-use keylogger with great features:
Run LightLogger Keylogger unnoticed in the background.
Discover which websites your child visits.
Monitor the messages your child sends to others.
Capture shots of what your child sees on the monitor.
Learn which programs your child runs.
Try before you buy with LightLogger Keylogger's free trial version.
Use LightLogger Keylogger on Windows 10, 8, 7, Vista, XP 32 and 64 bit.
Find out how easy LightLogger Keylogger is to install and use!
LightLogger Keylogger Image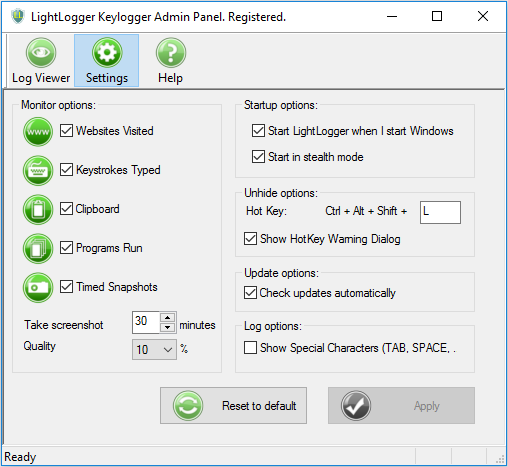 LightLogger Keylogger is "light" yet full-featured monitoring software:
Keystroke Monitoring

Capture all the text users type while using your computer. LightLogger's main feature is keystroke logging, which it accomplishes anywhere text is typed. From PC programs to web applications, LightLogger captures all keystrokes and associates them with the applications in which they are typed. GMail, ICQ, MSN, Yahoo, AIM, Skype, e-mail clients and PC programs are all monitored.

Website Monitoring

Track the web browsing of other users on your computer. LightLogger records all websites visited and their URLs. And LightLogger's website monitoring works with most browsers, including Microsoft Edge, Google Chrome, Mozilla Firefox, Internet Explorer, and Opera.

Application Monitoring

Users of your PC can make critical changes to your system, data, or files using Windows tools and other programs. LightLogger can monitor and list all the applications opened and run on your PC, providing a record of changes made and processes run by other users.

Screen Captures

View the contents users see on your PC's monitor. Configure LightLogger to make screen captures at intervals you choose and save them in a customizable file size to conserve space if necessary.

Clipboard Monitoring

Monitor text pasted into other Windows applications. LightLogger records all text cut, copied, and pasted with Windows clipboard.
LightLogger Keylogger Testimonials:
Thank you, LightLogger Keylogger! You're the first monitor we tried, and we are very pleased. We have an 8 year old boy who would spend every waking hour on the computer if we let him. Of course, we have strict rules but also a very, very smart kid! It's only common sense to check on his web browsing and social activity regularly. LightLogger Keylogger's the perfect tool!

—Marlene

I have used LightLogger Keylogger for several years and am very satisfied. I have used the program when I myself can't remember what I did on the computer! The FAQs on the website are a very high quality user manual, and a support portal is built into the administrator panel. Good job!

—Stewart

Just purchased a LightLogger Keylogger license and am very happy. It has met my need perfectly.

Holič