Free Keylogger for Mac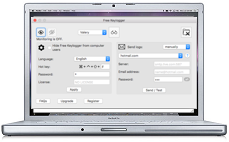 HeavenWard's FreeKey Keylogger makes Mac keylogging a snap! Easy installation, a compact and intuitive interface, and must-have technical features make Free Keylogger your obvious first choice.
FreeKey Keylogger is an ideal tool for parents concerned about what their children do on the internet and the computer. Free Keylogger captures text anywhere it is typed.
FreeKey Keylogger simplifies keylogging:
Run Free Keylogger secretly behind its hidden, password-protected interface.
Monitor all computer users.
Capture keystrokes in all Mac applications and web pages.
Have Free Keylogger email log files to you at intervals you select.
Open the zipped log files only with your password.
Run Free Keylogger on Mac 10.8 or above.
Enjoy Free Keylogger's quick and easy installation.
Check out Free Keylogger's complete online help files.
Free Keylogger for Mac Interface